Went to Sam's Club and purchased some new cabinets a few months back and spent some time organizing the garage. The wife and children are trying to find ways to sabotage the cleanliness of it, but so far only the trash from celebrating the birth of Christ with gifts to tiny humans has managed to infiltrate the space.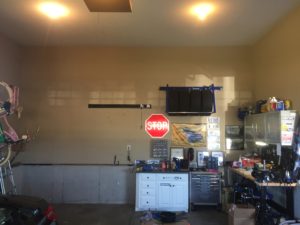 Picked up a QuickJack a few months back and that thing has been awesome. Made a lot of pain in the ass endeavors not so bad.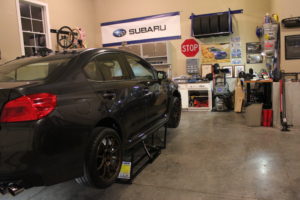 The QuickJack makes it a breeze to get the car up off the ground and get underneath it. The first thing I did was change my oil, and while I had it off the ground, I used an old trick from back when I had a BMW M roadster. That car was made in the early 2000s so it had a lot of orange turn signal indicators. My 2016 STI does up front, so I took out the bulbs, hit them lightly with some silver metallic spray paint, let them dry, and put them back in. The trick is to LIGHTLY coat them. Too much paint and the orange bulb won't light up orange anymore. Do it just right, and the bulb will still light up orange when illuminated.

Front end looks a lot better without the amber bulbs on display.
Since it is so easy to jack the car up now, I purchased a few other items to be installed underneath the car.
First thing was some undercarriage stiffening (insert joke here) from Cusco. Honestly… I think this is probably eye candy that no one can even eye without it being off the ground. I don't feel much, but you can tell that the Cusco pieces are much more sturdy and stiffer than the older, less stiff ones.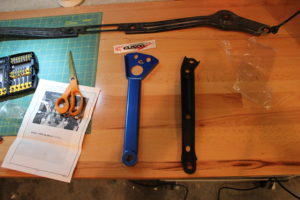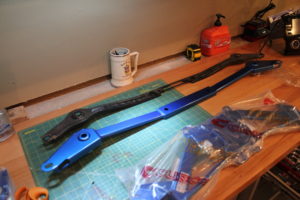 Some pics of them installed: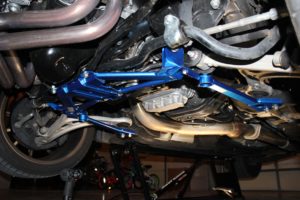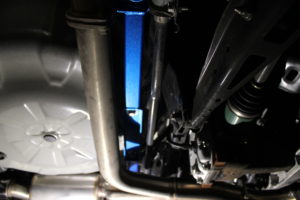 Just to add to the getting stiffer motif, installed a RCE rear sway bar. This one has a girth of 24mm and I set the bar to hard, so it's not giving giving up much flex and I can definitely feel the difference. Car handles much more aggressive now, and I love it. I have a front sway bar from RCE I've not installed yet.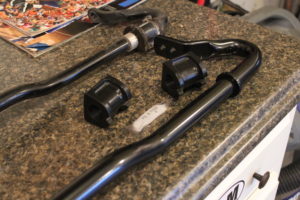 I've got another project I'm starting up soon. Hope to being the installing tonight and get some videos/pics up of it.